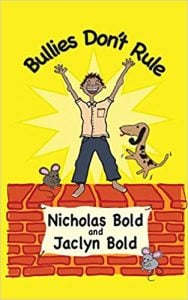 What do you think happened to Billy when he gave a kid a wedgie? What did Sally's mum do when she found bullying in her emails? Read these and other great stories to find out!
Bullies Don't Rule! That is the message every child should understand. This book is a collection of short stories about bullying, written by a 10 year old kid, for other kids and their parents.
Use this book to open up conversations about bullying with your kids.
Designed for parents to read to younger children and for older children to read themselves.
Perfect for kids aged 4 -12 years old.
Learn simple ways to teach your kids how to deal with bullying.
Understand warning signs to look out for if your child is being bullied.
Read about bullying from a child's and parent's perspective
Jan says: Since bullying can be a major contributing factor to kids going missing from school and home, it's great to see this sensitive subject being tackled from a child's perspective, together with some research found by his supportive Mum. Kids who don't learn the skills to stand up to bullies often fall into the role of victim during their adult life, so this book is a must-read for all ages.