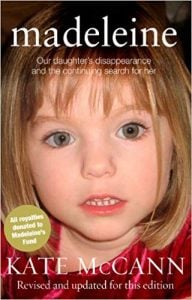 Kate McCann's heart-rending account of the disappearance of her IVF daughter, Madeleine, almost 4 years old, in Portugal in May 2007. It details not only the nightmarish worst-case scenario thoughts that went through her mind, but also the uphill struggles with coping with an inept Police investigation and the intense media pressure on her and her husband.
Fortunately, Kate began a journal soon after Madeleine went missing, and this has proved to be an invaluable tool in both clearing her name with the Portuguese Police, and re-energising the search through Scotland Yard, who have subsequently established several new suspects.
Jan was present when Gerry McCann gave a speech at the National Missing Persons Conference in the UK in September 2007, and she extends her very best wishes that Madeleine may yet be found alive and well.