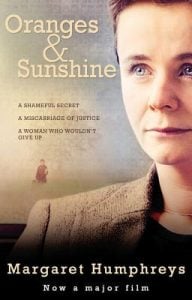 Oranges & Sunshine by Margarete Humphreys
Margaret was a Social Worker in Nottingham when she appalled to discover that between the end of the Second World War and 1970, some 130,000 children aged 3 to 10 years were taken from their mothers and exported to Australia, New Zealand, Canada and Rhodesia by the UK Government in the belief that they were giving them a better life in the land of oranges and sunshine.
In reality, things weren't quite so romantic. Arriving on Fremantle Docks after a long voyage, children would be split up from their siblings and sent to work in factories in suffocating heat, or to live in orphanages where they were subjected to physical and sexual abuse. Some were lucky enough to be adopted by loving families. However, these children grew up believing that their birth mothers were dead or didn't want them, when all they were guilty of was being poor.
This scenario echoes what happened to the Stolen Generations in the Aboriginal community.
Margaret has now set up the Child Migrants Trust to help the children re-establish contact with their birth families and, in many cases, unknown step families.
Jan says, "Having traced my own family back to 1677, I'm happy to help these children, now approaching retirement age, to find their relatives in Australia and the UK so their parents have a chance to explain what really happened all those years ago and how they never stopped loving them. I know myself that it is quite a moving experience to discover your own unique recipe of nature + nurture = personality. Contact Us if you would like us to help you."