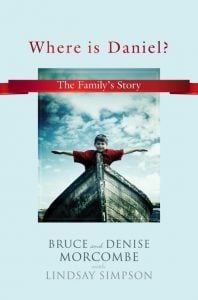 On 7 December 2003 Daniel Morcombe disappeared on the Sunshine Coast, while waiting for a bus. For Bruce and Denise Morcombe – the parents of Daniel – and his brothers, Bradley and Dean, it was apparent within hours that something was very wrong. In the first few days following Daniel's disappearance, Bruce and Denise made a promise to their son that they would never ever stop looking for him, and bring who was responsible to justice. 'We will never give up.' As the nightmare of hours became days then weeks, and months and years, the family mobilised to become the moral force behind the longest criminal investigation in Australia's history. Where is Daniel? covers the decade-long investigation into the disappearance of Daniel and the extraordinary courage, dignity, persistence and fortitude Bruce and Denise displayed under unbearable circumstances. This determination also applied to Bruce and Denise's desire to mine something positive from the darkest of experiences. They started the Daniel Morcombe Foundation in 2005, to teach children about safety, and have since visited hundreds of schools around Australia.
This quote from the book is part of Denise's heartfelt prayer given at a memorial service on the first anniversary of Daniel's disappearance:
"There is never a day when I do not search for your face. Somewhere, everywhere, anywhere, I see a turn of the head, a back that reminds me of you and I hurry to look more closely only to feel despair again, because of course it's not you. Are you lying in some lonely place, dead or lost? My heart reaches out to you and I try to touch you there…Are you held captive by someone? We would give anything to see you, just to see you once more…There is no place where my love will not reach you. There is no time when I will forget you." 
Denise and Bruce established Australia's largest annual child safety day-of-action, 'Day for Daniel', and utilised the funds raised to support other children who have been the victims of abuse. Over a decade later, with Daniel's killer brought to justice thanks to an amazing covert police sting, this is the family's story. Where is Daniel? is a testament to the enduring power of love between parents and their child, and the strength and bonds of family to survive.